February, 2013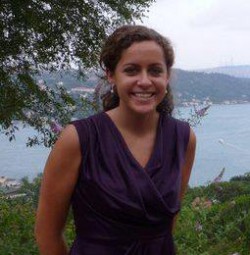 Katy Hammersmith, was awarded the 2013 "Outstanding Senior Award." This award goes to a student who exemplifies the epitome of excellence and excels in academics, leadership, and research, but also show a genuine interest in improving the Biomedical Engineering community at Georgia Tech. 
"Katy consistently displays inherent problem-solving and analytical skills, uncommon in most undergraduate students, but a distinguishing trait of the best engineers," said Todd McDevitt, Ph.D., Associate Professor in the Wallace H. Coulter Department of Biomedical Engineering.  
In recognition of her academic excellence, research accomplishments and leadership activities, Hammersmith rightfully received a variety of awards and distinctions. She was twice chosen by Georgia Tech to be 1 of only 4 students from the entire institute to be nominated for the Goldwater Scholarship, for which she received Honorable Mention in 2011. In addition, Hammersmith was also recognized with the Helen Grenga Outstanding Woman Engineer Award last spring.
Since graduating in August, Hammersmith has been conducting research at Imperial College London with the support of a Whitaker International Fellowship. Based on her research productivity and accomplishments, Hammersmith received several President's Undergraduate Research Awards (PURA) in addition to being chosen for the Petit Undergraduate Research Scholars program. 
Hammersmith's passion for science and research extended far beyond just her activities in the McDevitt laboratory. She served as the President of the Student Activities Board for Undergraduate Research (SABUR) at Georgia Tech, a program she participated in since her freshman year. Hammersmith has mentored others through the Women in Engineering Mentoring Program, was an ambassador for the College of Engineering Admissions, participated in the Georgia Tech BMES chapter, and was inducted into the Gamma Beta Phi Honor Society. Furthermore, she sought to give back in meaningful ways by volunteering for the MedShare program to ship excess medical supplies to developing countries and visited Nicaragua as part of the Foundation for the International Medical Relief of Children to volunteer in rural clinics and provide education on healthy living habits.
During her tenure in the McDevitt Lab, Hammersmith worked with graduate student, Andrés Bratt-Leal, to engineer hydrogel microparticles for controlled molecular delivery to stem cells. Hammersmith's project was part of a larger NIH- and NSF-funded project within the laboratory focused on the engineering of biomaterials to direct the differentiation of stem cells, a significant challenge for the translation of stem cells into viable therapeutics and diagnostics. This multi-disciplinary project integrates fundamental principles of molecularly engineering biomaterials with stem cell culture, differentiation and characterization, thus requiring expertise in vastly different arenas.  The research results Hammersmith generated warranted her co-authorship on one published manuscript in Biomaterials and she is a co-author of at least 2 more papers, one as co-first author. 
"Katy has proven herself to be a rigorous scientific researcher and emerging leader in the field of Biomedical Engineering," McDevitt explained. "She is a role model not only for the other undergraduate researchers in my lab, the BME department, and the entire Georgia Tech community, but for undergraduates nationally and internationally in all areas of engineering and science."