September, 2013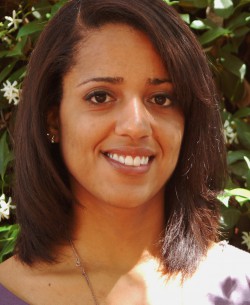 Denise Sulivan has been awarded an Alfred P. Sloan / Georgia Institute of Technology University Centers of Exemplary Mentoring (UCEM) Scholarship. Sullivan will receive $10,000, which will be used accelerate or catalyze her professional development while she is working towards her Ph.D.  She was recognized on September 27, 2013 during the FACES/Sloan reception at Georgia Tech.
Sullivan's initial foray into biomedical research began in the Chemical Engineering Department at the University of South Carolina (USC), where she contributed to the development of a novel insulin delivery system for patients with Type I diabetes under the guidance of James Blanchette, Ph.D.
As a member of the McDevitt laboratory in the joint Wallace H. Coulter Department of Biomedical Engineering at Georgia Tech and Emory University her graduate research has integrated fundamental concepts of chemistry, material science and engineering with stem cell biology to develop technologies to harness the regenerative potential of pluripotent stem cells.  
Additionally, she has formed a primary collaboration with Andrew Lyon's, Ph.D., laboratory in the School of Chemistry and Biochemistry at Georgia Tech. This interdisciplinary relationship merges two distinct areas of expertise, enabling the development of novel material-based strategies for controlling stem cell differentiation.
In addition to her graduate training, she also actively pursues opportunities to promote science and engineering within community. As part of Bioengineering and Bioscience Unified Graduate Students (BBUGS), she currently serves as co-chair for the Education and Outreach committee, which focuses on engaging students in science and research through on-and off-campus outreach activities, such as lab tours and visual presentations. She also helps coordinate the annual "Buzz on Biotechnology" open house for students, teachers, and parents to stimulate excitement about biotechnology research and helped to develop an after-school "Science Club" that pairs graduate students mentors with high school students to introduce topics beyond the scope of their general science courses.  
--------
The Alfred P. Sloan Foundation is a philanthropic, not-for-profit grant-making institution based in New York City. Established in 1934 by Alfred Pritchard Sloan Jr., then-President and Chief Executive Officer of General Motors, the Foundation makes grants in support of original research and education in science, technology, engineering, mathematics and economic performance.