January, 2015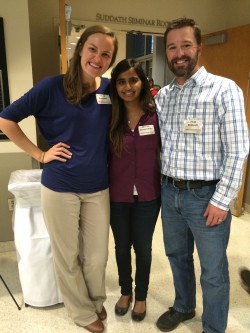 McDevitt lab members, Olivia Burnsed and Marian Hettiaratchi were 2 of 3 trainees to receive an Interdisciplinary Education and Research "Above and Beyond" award from the Petit Institute for Bioengineering & Bioscience.
"I am very proud of Olivia and Marian for their unselfish leadership, which they continually demonstrate within our laboratory as well within the broader community," Todd McDevitt, PhD, explained. "Community service and collaboration are key core values that permeate the lab and they have both led unselfishly in this regard."
The trainee "Above and Beyond" awards are given to graduate students for their dedication to the community through service activities as well as volunteering. 
Burnsed was recognized for her organization and leadership of the highly successful and first-ever Biomaterials Day in October 2014. Hettiaratchi was recognized for her roll as the co-director of the BBUGS graduate student organization for the past two years, which involved management and oversight of numerous volunteer and service activities that serve the broader the bio-community.