December, 2014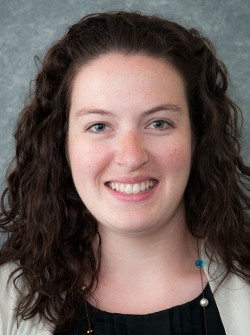 The Greater Southeast affiliate of the American Heart Association (AHA) recently awarded Tracy Hookway, PhD, a Postdoctoral Fellowship Award. Hookway was 1 of only 14 selected for funding out of 72 total applicants.
Hookway joined the laboratory of Todd McDevitt, PhD, at the Georgia Institute of Technology in the summer of 2012 as a postdoctoral fellow after completing her PhD in Biomedical Engineering at Worcester Polytechnic Institute under the guidance of Marsha Rolle, PhD. Hookway's research in the McDevitt laboratory is focused on the differentiation and 3D morphogenesis of human pluripotent stem cells directed towards cardiomyocytes (heart muscle cells).
"I am excited for Tracy because she has worked tremendously hard and consistently demonstrates the dedication and persistence required to excel scientifically," McDevitt said. "This is a great milestone in what will be a very successful career in academia."
During her time in the McDevitt lab Hookway has established several successful collaborations with researchers at Georgia Tech and other universities. Earlier this year, in collaboration with Chunhui Xu, PhD and Mary Wagner, PhD from Emory University, Hookway published a paper in Stem Cell Reports demonstrating that heterogeneous populations of differentiating cardiac cells can be enriched by 3D aggregation as multicellular constructs. This project provided much of the preliminary data for her AHA fellowship in which she plans to use a combination of developmentally-inspired cues to promote the maturation of cardiac muscle cells.
As Hookway continues to build her independent scientific career, her long-term goal is to focus her own laboratory on engineering models of human myocardium that can be used as a test bed to study cardiac development and disease, as a pharmacological screening tool, or as a tissue engineering strategy for cardiac repair. 
American Heart Association - Greater Southeast Affiliation
Marsha Rolle Lab at Worchester Polytechnic Institution
Lab Members