January, 2015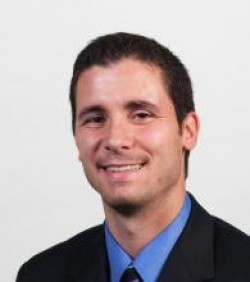 Douglas White received a fellowship from the Atlanta Chapter of the Achievement Rewards for College Scientists (ARCS) Foundation. The Atlanta Chapter of ARCS recently honored 45 outstanding young scientists at its 23rd annual ARCS Scholar Awards event. White, who is co-advised by Professors Melissa Kemp, PhD and Todd McDevitt, PhD, works on computational modeling approaches to study the emergent behaviors of 3D stem cell environments.
The ARCS Foundation Atlanta provides scholar awards to outstanding students at Emory University, Georgia Institute of Technology, Morehouse College, and University of Georgia. ARCS is an all-volunteer national organization of women that supports outstanding graduate scholars in science, engineering, and medical research. 
Fellowships, like the ones offered by ARCS, are important and can be game-changing because they offer doctoral students more flexibility to take bolder steps during their research training. White's early work led to the creation of a novel computational model of embryonic stem cells (ESCs) differentiation and morphogenesis. Cells are modeled as individual autonomous agents capable of making decisions based on the context of their local microenvironment. Emergence of different multicellular patterns is examined by varying the rules that govern cell behaviors. Quantification of pattern emergence and morphogenic events, both experimentally and computationally, remains a significant challenge and focus of White's ongoing research. 
The Atlanta ARCS Chapter was incorporated in 1992 and presented the first three scholar awards in October of that year. Since then, the Atlanta Chapter has awarded over $3.8 million to more than 380 scholars. For the 2014-15 academic year, the Atlanta Chapter awarded $322,500 in scholar awards.
White received his BS in Bioengineering at the University of Washington, where he conducted stem cell research in the laboratory of Chuck Murry, MD, PhD. After earning his undergraduate degree, he continued his education at Georgia Institute of Technology as a PhD candidate in the Wallace H. Coulter Department of Biomedical Engineering in 2010. White and his research have been funded by the National Science Foundation (NSF) through the Integrated Graduate Engineering and Research Training (IGERT) program on Stem Cell Biomanufacturing as well as the Emergent Behavior of Integrated Cellular Systems (EBICS) Science and Technology Center, which seeks to investigate how scientists can leverage inherent emergent behaviors of cells to create complex machines.
Related Websites