September, 2016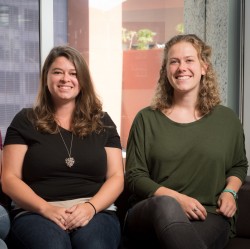 Ariel Kauss and Ashley Libby were named 2016 Discovery Fellows. Libby is in UCSF's Developmental and Stem Cell Biology graduate program and Kauss is in the Biomedical Sciences program.

The Discovery Fellows Program run by the Graduate Division at UC San Francisco supports over 60 PhD graduate students in the basic sciences. Discovery Fellows are chosen for their leadership potential, excellence in research, community-mindedness, and communications skills.

The Discovery Fellows program was made possible by the generous gift in December 2013 from Sir Michael Moritz, and his wife, Harriet Heyman. Their hope is that the Discovery Fellows will become outspoken advocates for UCSF's basic science programs and for the importance of the innovative research going on at UCSF.
Lab Members